Football is a game played with a ball between two teams of eleven players each. The object of the game is scoring the ball into the opposing goal .The team that scores the most goals by the end of the match wins the match. 
Football is the most popular sport in Spain. 
Each team is, at once, a defender team and an attacking team.
LAWS OF THE GAME (RULES)
The referee decides about the rules of the game.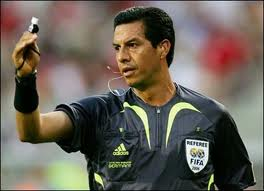 FOULS
– Nobody can touch the ball with the hands.
– Tripping an opponent
– Pushing an opponent.
RESTARTS
States of play: ball in play and ball out of play.
 Kick off
 Throw in
 Goal kick
 Corner kick
 Free kick
 Penalty kick
THE PITCH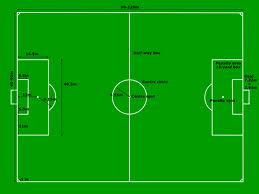 The goal has two posts and one bar.
There are two touchlines or sidelines and two goal lines (the shorter boundaries).
There are two penalty areas
DURATION
2 periods of 45 minutes each (half-halves) and a 15 minute break
PLAYER´S ROLE
 Goalkeeper
 Defenders
 Attacker or strikers or forwards
 Midfield player
All of them can be central, left and right.
VERBS
 Kick the ball
 Score a goal.
 Pass the ball to a teammate.
 Obstruct the opponent player
 Head the ball
 Take a penalty
 Take a shot.
 Shoot the ball against the wall.
 Dribbling the ball around-past opponents.
 Control the ball
 Intercept a pass, a ball,…
 Tackle the opponent.
 To get clear, to distance oneself from…, to sake off one,s attacker
USEFUL EXPRESSIONS
Coach
Draw- Tied
Scoreboard
Championship
Move
BASIC EQUIPMENT
Shirt, shorts, socks and footwear